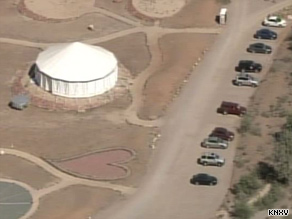 James Shore of Milwaukee, Wisconsin and Kirby Brown of Westtown, New York, died and 19 others fell ill at a central Arizona resort after spending up to two hours in a sauna-like "sweatbox" while they were attending a program by self-help expert James Arthur Ray. The dead and the injured were among the 50 or so visitors at the Angel Valley Resort near Sedona attending Ray's "Spiritual Warrior" program. The "sweatbox" is a dome-like structure covered with tarps and blankets. Hot rocks and water were used to create steam in the enclosed environment. The police is still investigating what went wrong Thursday night that caused this tragedy which "may turn this into a criminal prosecution," according to Sheriff Lloyd Waugh.
Fire and rescue officials received emergency calls Thursday night from the Angel Valley Resort near Sedona saying three people were not breathing and another was burned. The victims were transported by air and land ambulances to medical facilities, with two of the injured pronounced dead shortly after arrival at the Verde Valley Medical Center, according to the sheriff's office.
The use of sweat lodges for spiritual and physical cleansing is a part of the culture of several Native American tribes. A traditional Native American sweat lodge is described as a small dome-like structure made up of willow branches, tied together and covered in canvas. Rocks are usually heated in a nearby fire pit and placed inside the lodge, and water is poured over them to create steam.
James Arthur Ray is the author of the best-selling book "Harmonic Wealth: The Secret of Attracting the Life You Want." He is described on his Web site as a "personal success strategist" and has appeared on CNN's "Larry King Live" and on the "Oprah Winfrey Show." He is featured in the self-empowerment film "The Secret."

Angel Valley Resort advertises itself as "a place to relax and heal … where powerful earth energies are present and active." It was founded in April 2002 by Michael and Amayra Hamilton, both of whom are teachers and counselors there. The resort is on 70 secluded valley acres 20 minutes from Sedona, surrounded by thousands of acres of national forest, according to the Web site. Source: CNN
This is a tragedy and I hope law enforcement will get to the bottom of what really occurred. It seems rather crazy to pack 21 people in a small space for two hours.
UPDATE#1: Liz Neuman is the third person to die in the Arizona "sweat box" accident. A homicide investigation now includes three deaths after Ms. Neuman died more than a week after participating in a sweat lodge ceremony that hospitalized nearly two dozen people. She suffered multiple organ damage during the October 8th ceremony at a resort near Sedona.
Photo credit: Angel Valley Resort, CNN