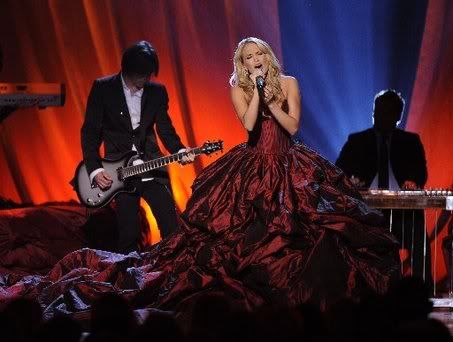 If you tuned in to the Country Music Awards last night, then you got a chance to see Carrie Underwood's extremely huge dress.
It get's a thumbs up from be for it's audacity to engulf the stage like that:
"Carrie Underwood's dress almost stole the singer's own thunder for her Entertainer of the Year win at Sunday's Academy of Country Music awards in Las Vegas.

The country music awards show has only given its most coveted award to a woman six times previously. But her dress during her performance 'I Told You So' made a bigger splash — the dark red strapless dress practically billowed across the set and threatened to swamp the MGM Grand." Source: NJ.com
So what do you think, was Carrie's dress a hit or a miss?